°°
°°
Taper Button Bits
Taper Button Bits
Specification: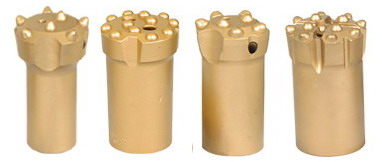 °Ů°°Buttons: 3 ®C 9
°Ů°°Button Type: Hemispherical, Ballistic, Conical
°Ů°°Diameter : 30mm - 50mm (D)
°Ů°°Taper: 4.8°", 6°", 7 °", 11°", 12°"
°Ů Bottom Hole: 22mm, 25mm (d)
°Ů°°Bit Body: Short skirt and Long skirt (H)
°Ů Water Hole: 2 -- 3


Button bits has higher technology, much longer primary grinding time and higher drilling efficiency while comparing with taper chisel bits and taper cross bits, so that the button bit is popular among the users.

According to the tungsten carbide insert, button bits can be divided into the types of hemispherical button, conical button and parabolic button, etc.
Button bits with hemispherical button is for high bearing capacity and abrasive resistance while conical button and parabolic button are for high drilling speed and low abrasive resistance.
When drilling, adjust the parameters of impulse and rotary with the standards of no jamming, high drilling speed and no bend of tapered drill rods.
Check the rock drill bits after each drilling. If the buttons are seriously worn, replace the button bits timely to ensure the drilling speed. If it°Įs possible, grind the button bit for reusing. Replace the button bits once the taper worn, otherwise the buttons would be seriously abraded and even jammed.
°°
Please note: we renew our website once in a few days, please visit it usually. Best view: 1024*768.
Copyright (C) 2005-2009 Hongkong and Shanghai Total Co., Ltd. All rights reserved.